Ralph Thomas Phelan1,2,3,4,5,6,7
M, b. 15 October 1924, d. 21 April 1994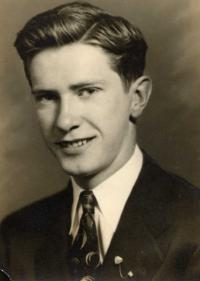 Ralph Thomas Phelan

Father
Joseph Francis

Phelan

8,9,10,11,4,12,5,13,7,14 b. 7 Apr 1892, d. 27 Sep 1958
Mother
Helen Marie

Dwyer

15,16,17,4,5,18,19,11,7,14 b. 27 Dec 1888, d. 24 Sep 1943
           Ralph Thomas
Phelan
was born on 15 October 1924 at
St. Mary's Hospital, Waterbury, Connecticut
. His attending physician was Raymond J. Quinn, M.D., who, lived just a few houses away on Baldwin Street.
20,21,22,5,23,24,7,14,25,26
     Ralph Thomas Phelan appears as Ralph Phelan, age 5, in the census of 5 June 1930 at
700 Baldwin Street, Waterbury, Connecticut
,in the household of
Joseph Francis

Phelan
as his son.
5
     Ralph Thomas Phelan appears as Ralph Phelan, age 15, in the census of 2 April 1940 at
700 Baldwin Street, Waterbury, New Haven County, Connecticut
,in the household of Joseph Francis
Phelan
as his son, along with
Helen Marie

Dwyer
,
Joseph Francis

Phelan

Jr.
,
Francis Joseph

Phelan
and
Anna Frances

Dwyer
.
27
     Ralph Thomas Phelan witnessed the marriage of
Ann Patricia

McNamara
and Joseph Francis
Phelan
Jr.his brother, on 24 October 1942 at
St. Francis Xavier Church, Waterbury, Connecticut
; Witnesses were Ralph Phelan, brother of the groom, and Mrs. Catherine Regan. They were married by J. A. Broderick.
28,29,30,31,32
     Ralph Thomas Phelan enlisted on 18 February 1943 at
Hartford, Connecticut
. He signed up for the duration of the war, plus 6 months. He enlisted in the United States Army on 18 February 1943 at
Hartford, Connecticut
, as a private. His record shows that he was 68 inches tall and weighed 116 pounds.
33
     Ralph trained on 26 September 1943 at
Camp Gruber, near Braggs, Muskogee County, Oklahoma
. Ralph was in the 3rd Army, 20th Corp., 733rd Field Artillery. He was a surveyor who dug in the big guns.
11,24,19
He; Ralph was initially with the Headquarters and Headquarters Battery 405th Field Artillery Group. His Army serial number was 31 324 024. For the first six months, he was a private while he was in basic training. He advanced to Private First Class and became a Surveyor. His highest grade held was a corporal where he was a Battery Clerk. The description states that he "took care of service records, made up payrolls, attended to allotments. Made morning reports. Kept alphabetical and numerical file. Prepared mimeographs, stencils, indorsments (sic),reports and standard forms." He was with Battery B, 733rd Field Artillery Battalion and departed for Europe on 10 Apr 1944 and landed 16 Apr 1944. Under the heading BATTLES AND CAMPAIGNS, it says that he was in Normandy (Northern France), Ardennes (Rhineland) and Central Europe. He was awarded the European African Middle Eastern Ribbon with 5 Bronze Stars and the Good Conduct Medal G O #6 Hq 733 FA BN on May 25, 1945. He was awarded the Medal of Verdun from Verdun, France in 1944. He left Europe on 19 Oct 1945 and landed on US soil 29 Oct 1945.
24,34
On 17 December 1944 at
Kerlingen, Germany
, Lots of moves around Kerlingen, the sporadic attacks of the vanishing Luftwaffe...the cold and the snow. On 9 March 1945 at
Freundenberg, Germany
, The ghost town without one inhabitant, animal or human. Not even one house escaped damage. On 16 March 1945 at
Greimerath, Germany
, Crossed the Saar River at Saarburg. On 17 March 1945 at
Zwalbach, Germany
, Battery B joined the battalion again. Lots of wrecked kitchens by the roadside. On 18 March 1945 at
Bardenbach, Germany
, The Battalion kept everyone awake that night firing about 400 rounds. On 19 March 1945 at
Alsweiler, Germany
, German ammunition dump in the forest. On 20 March 1945 at
Matzenbach, Germany
, Even the medics got three POW's that day. On 21 March 1945 at
Rodenbach, Germany
, The Bn. C.P. was located in a schoolhouse and we had indoor showers. What a treat! Lots of POW's going by in trucks. On 24 March 1945 at
Kappeln, Germany
, The town we were supposed to go to for a week's rest which never materialized. On 31 March 1945 at
Steinbach, Germany
, Crossed the Rhine River over the longest pontoon bridge and then rode over Hitler's famous Auto-Bahn. On 1 April 1945 at
Asterode, Germany
, Easter services out in the open. Sent candy, chocolates, and cigarettes to American and allied prisoners liberated from a camp. In 1945, the following excerpt from an article was printed in the Waterbury Republican:
The Associated Press last night listed the following Waterburians as scheduled to arrive at Boston and New York today from the European Theater of Operations. Local men reported to be aboard the Montclair Victory reported as docking at Boston today: Cpl. Orfeo Canuzzi, Pfc. Joseph R. Fontano, Cpl. John O. Wall, M/Sgt Thomas P. Dowling, Cpl. Loius Colaci and Cpl. Ralph T. Phelan.35
He ended military service on 3 November 1945 at
Camp Edwards, Massachusetts
; with an honorable discharge.
24
     Ralph Thomas Phelan resided in 1946 at
700 Baldwin Street, Waterbury, Connecticut
, with his father.
36
     Phyllis Phelan, wife of George Phelan, cousin to Ralph, told this funny story: Ralph and George were out of town and had two dates accompany them to a restaurant. The girls went to the ladies room and the guys didn't have much money left. A pack of cigarettes cost 16 cents, but one needed to put two dimes in the machine. Out with the pack came four cents taped to the pack, and that's all the money they had for a tip after they bought a pack. The waitress saw what they left her (4 cts) and threw the money at them. The next day, they went back and gave her a proper tip.
37
Ralph was the Exalted Ruler of the Benevolent and Protective Order of Elks (BPOE) 1893, of the Waterbury Lodge #265 between 1958 and 1959 at
283 West Main Street, Waterbury, Connecticut
. The Elks had modest beginnings in 1868 as a social club (then called "The Jolly Corks") established as a private club to elude New York City laws governing the opening hours of public taverns. After the death of a member left his wife and children without income, the club took up additional service roles, rituals, and a new name. Desring to adopt a "readily identifiable creature of stature, indigenous to America" fifteen members voted 8-7 to favor the elk above the buffalo. Early members were mostly from thetrical performing troupes in New York City. It has since evolved into a major American fraternal, charitable, and service order.
25,38
Chester A. Langlais, City Clerk, administered the Oath of Office to Ralph as Assistant City Clerk.
39
He was an informant to the death of Anna F. Dwyer; of cardiac arrest.
40,41
     Ralph died on 21 April 1994 at
207 Westwood Ave., Waterbury, Connecticut
, at age 69 .
7,42,25
     Ralph Thomas Phelan was buried on 25 April 1994 at
Pine Grove Cemetery, Waterbury, Connecticut
.
14,7,43,25