Mary Clare Healey1,2,3,4
F, b. 15 January 1942, d. 30 August 2004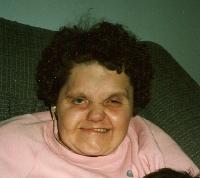 Mary Clare Healey
           Mary Clare
Healey
was born on 15 January 1942 at
Waterbury, Connecticut
..
12,13,14,4
(They gave the name Mary to Mary Clare in the hospital after her birth because she had to have a baptism name. They did not think that she would survive so she was baptized in the hospital. Gram said that she added the name Clare to it later. (They typically gave the name Mary or Joseph to infants in the hospital.)
15
)
     Mary Clare Healey resided between September 1997 and August 2004 at
Wolcott View Manor, Wolcott, Connecticut
.
16,4
     Mary Clare enjoyed playing cards, making puzzles, and Bingo. She loved to draw and make hook rugs. She thoroughly enjoyed going to Easter Seals Summer Camp where she learned how to swim. She especially enjoyed when her nieces and nephews would stay overnight and spend time with her. She often played "school" with them and she was the teacher.
4
     Mary Clare Healey died on 30 August 2004 at
St. Mary's Hospital, Waterbury, Connecticut
, at age 62 Cardiopulmonary Arrest due to Congestive Heart Failure.
3,4,17
     Mary Clare Healey was buried on 2 September 2004 at
New Pine Grove Cemetery, Waterbury, Connecticut
. (She is buried in the same plot as her mother and her father, but to the back of them.)
4,18,19