Ada Gertrude Beecher1,2
F, b. 19 March 1919, d. 19 September 2009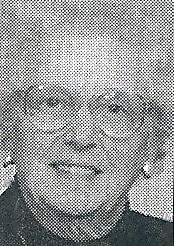 Ada Beecher Fehrs
           Ada Gertrude
Beecher
was born on 19 March 1919 at
Clark Street, Waterbury, Connecticut
..
1,3
     Ada Gertrude Beecher married
Hyland Charles

Fehrs
, son of
Charles Henry

Fehrs
and
Margaret Anna

Bergin
, in 1942 at
Waltham, Massachusetts
.
1,4
     Hyland Charles died on 21 February 1990 at age 74 leaving Ada Gertrude a widow.
1,5
Ada was very active in the Girls Scouts, received their Golden Eaglet Award and was a Girl Scout leader for many years, as well as a Cub Scout Den Mother for nine years. She was a member of the Olivet Chapter 29, Masonic Order of the Eastern Star, and a member of the Evergreen Club. She was a former member of Winona Rebekah Lodge No. 8, Independent Order of Oddfellows, AARP, and the Half-A-League Hiking Club.
2
     Ada Gertrude Beecher died on 19 September 2009 at
1285 Woodtick Road, Wolcott, Connecticut
, at age 90.
6
She was buried on 22 September 2009 at
New Pine Grove Cemetery, Waterbury, Connecticut
.
7