Mary Clare Healey1,2,3,4
F, b. 15 January 1942, d. 30 August 2004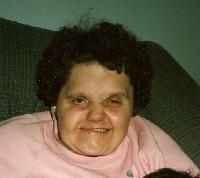 Mary Clare Healey
     Mary Clare
Healey
was baptized on 15 January 1942 at
Saint Mary's Hospital, Waterbury, Connecticut
, Sponsors were Richard and Nora Carey, neighbors of the Healy family.
12
     Mary Clare Healey was born on 15 January 1942 at
Waterbury, Connecticut
..
13,14,15,4
She was baptized on 17 May 1942 at
Saint Francis Xavier Church, Waterbury, Connecticut
, by the Reverend L. S. Kelly. Sponsors were Richard and Nora Carey, neighbors of her parents.
16
She was ill with (an unknown value) between 15 September 1948 and 21 April 1949 at
St. Luke's Hospital-113th Street and AMsterdam Avenue, New York, New York
.
17
She was educated at
Hopeville School, Waterbury, Connecticut
, Her favorites teachers were Marilyn McKay and Ann Balf who kept in touch with her until she died.
4
     Mary Clare Healey resided between September 1997 and August 2004 at
Wolcott View Manor, Wolcott, Connecticut
.
18,4
     Mary Clare Healey died on 30 August 2004 at
St. Mary's Hospital, Waterbury, Connecticut
, at age 62 Cardiopulmonary Arrest due to Congestive Heart Failure.
3,4,19
Mary Clare Healey's funeral was on 2 September 2004 at
St. Francis Xavier Church, Waterbury, Connecticut
, The following eulogy was written by Taryn L. Phelan, her niece, and read by Clare Elmendorf Kindall, her niece:
     "
A friend is dearer than the light of heaven; for it would be better for us that the sun were extinguished, than that we should be without friends."
(Chrysostum)      
Mary Clare was not only our sister,aunt,cousin, but also our friend. Plautus once said, "Where your friends are, there your riches are." Mary Clare was rich in friends; she was loved by all and gave it back twofold.
Mary Clare would call me faithfully twice daily. In the morning, I'd hear about the activities she would be involved in: Bingo, ceramics, singing, getting her hair done, or just socializing. She'd say "Everyone knows me here." and it was true. She'd hop from room to room talking to patients at Wolcott View. Sometimes, we couldn't even find her when we went to visit because she was in someone else's room chatting. She was even spotted sitting in on the Baptist Bible classes faithfully! She was also our family's resident weather channel, letting us know if it would be too hot or cold to go outside and if a storm was abrewing. "Too hot to go outside today", she'd say. So, we'd take her for a wheelchair ride inside Wolcott View, sometimes with Gigi sitting upright on her lap. Gigi became "OUR" dog and she would proudly say that to anyone that came by to pet her.
At Night, she'd call me again to tell me all about her day. She'd first say, "Hi, gorgeous" (gorshis) and I'd say "hi, beautiful". She often showed her sharp wit when I'd ask her what's new and she'd reply" New York, New Haven, New Hampshire". Sometimes, when she called I'd pretend not to know it's her and I'd say" Who's this...Aunt Patsy?" and she'd say "no". I'd go through all of our relatives' names when, in exasperation, she'd say, "Come on, Terry. You know who it is. It's ME, Mary Clare" and we'd both laugh. She would be excited to tell me she won $1.00 at Bingo that day. Suddenly, she'd ask how much money she has in the bank and I'd say "Millions", and she'd stop for a second and say, "Really?" Mary Clare would tell me about her day, providing me with essential information such as the number of times she voided and how many water pills she took. I would wince on the phone and want to say, "That's too much information", but I'd simply say, "that's nice, Mary Clare." Then, I'd sing her a French lullaby with her name in it, "Fais Do Do, Mary Clare" which means Go night night. She always had the same thing to say as she listened: "I like that". We would end with "Good night, sleep tight, don't let the bugs bite. I love
you".      
When Mary Clare was born, the doctors didn't think she would live very long. In a time when so many handicapped children were institutionalized, her parents cared for her at home. Gram and Grampa Healey spent countless hours commuting by train to NYC to visit her in the hospital after one of her many operations. She must have had a high pain threshold because she never complained. In a time when special education was unheard of, two extraordinary teachers, Ann Balff and Marily McKay, taught her to read and write at Hopeville School. They both said this summer that she was more helpful to the children than anything else. Kudos to these fine unsung heros.
As grandma got older, Mary Clare took wonderful care of her mom. I remember being in church at Gram's funeral when sudddenly the silence was broken with loud sobs of "I want my mommy." It was heartwrenching to hear. And she lost the aunts one by one. She told me a few months ago that she missed Kelsey Street and I knew that she meant that she missed her life there. Last Mother's Day she was a little melancholy and weepy and she said, "I don't have a mother"(to celebrate Mother's Day with) and I said " Your family is in heaven, but I'll take care of you here on earth and your whole family will, too".
Then she'd say about Wolcott View, "This is my home now. I like it here. There's always something to do." And she was right. I often told her she was the boss when it came to decisions and she liked that. She would repeat, "I'm the boss," and I'd say "Yup, you're the boss". But, it was the kindness and generosity of spirit of the people at Wolcott View who embraced her and made her feel that she belonged there, that it was truly home for her. For that, we are all sincerely grateful.
What does one say about her cherished sisters and brother who have loved her, nurtured her and cared for her her whole life? They have always incorporated her into their own busy lives. She would wait with anticipation for Maureen and Peggy's Sunday visits, with Maureen bringing her a cup of ice cream. Mary Clare couold always count on having Thanksgiving at Peggy's. She loved coming to summer picnics at Jackie and Ralph's house when she could swim in the pool with her zillion nieces and nephews. She would excitedly recount when Jackie and Bob would visit her. Janice would spend hours sewing hand made tailored clothes or redoing store bought ones since it was so hard to find clothes that fit her. She appreciated all the hard work that Janice did for her and laughed at Uncle Bob's jokes. Mary Clare loved her only brother,John. Every Christmas, I'd tell her how generous her brother had been to her and she'd finagle the dollar amount out of me. "Wow", she'd say. He's good to me." She understood money well. But, it was her Patsy who she adored, Patsy who she depended on the most. Patsy was more than a sister to Mary Clare; she was her friend, her care giver, her confidante. Patsy was always there for her and she never complaind about the difficulties caring for her or getting wheelchairs into the car or getting her up the stairs for Christmas and Easter or how much time it took out of her schedule to involve Mary Clare in our lives for family occasions.
And Mary Clare loved her nieces and nephews. She's often say to me, "How many nieces and nephews do I have?" And I'd answer, "Lots." They'd come and do Irish dancing for her, take her to the movies and the drive-in, play cards, go see the Christmas lights in Hartford, and get her involved in Special Olympics. She loved watching them swim in the river in Southbury on the 4th of July. She adored her cousin, Mary Clare Keane. Even though we're still not sure how we're related, it doesn't matter to any of us. Mary Clare would call her cousin in Delaware on Sunday and chat with her. She often told me she missed her cousin and I could see why.
Some people are so special that once they enter your life, it becomes richer and fuller and more wonderful than you ever thought it could be. Mary Clare was that special person and we'd tell her over and over. She loved to hear it. She knew we meant it.
So, good night, sweeheart. Sleep tight, don't let the bed bugs bite.
We love you and will always remember how you've touched all of our lives.
Fais do do, our friend.20
     Mary Clare Healey was buried on 2 September 2004 at
New Pine Grove Cemetery, Waterbury, Connecticut
. (She is buried in the same plot as her mother and her father, but to the back of them.)
4,21,22