Francis T. Kennedy1,2
M, b. 31 March 1937, d. 3 May 2015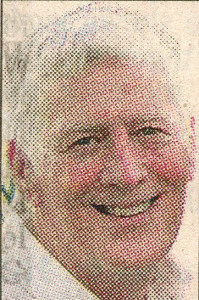 Francis T. Kennedy
Relationship
4th cousin 1 time removed of Taryn Lynn

Phelan
           Francis T.
Kennedy
was born on 31 March 1937 at
Waterbury, Connecticut
..
5,6
     Francis graduated from Fairfield University with a Bachelor of Science degree. He then earned a Master of Science degree in Physics from the University of Vermont and went on to graduate from Southern Connecticut State University with a Master's degree in Chemistry. Central Connecticut State University awarded him with his Sixth Year certificate of advanced graduate study in Educational Media and his Sixth Year certificate in School Administration.
2
     Between 1948 and 1996, Francis immersed himself in Education as a career. He began teaching at Father Duenas Memorial High School on the island of Guam. He taught Chemistry and Physics at Wilby High School and Sacred Heart High School in Waterbury and was also a member of the adjunct faculty of Nauagatuck Community Technical College for many years where he taught Chemistry. He served many years as an administrator in Waterbury before retirement. He served on the faculty of the University of Bridgeport, School of Education, as a supevisor of student teaching.
2
     Francis T. Kennedy died on 3 May 2015 at age 78 at home in the company of his family at
Oakville, Connecticut
.
2
He was buried on 7 May 2015 at
Mount Olivet Cemetery, Watertown, Connecticut
.
7