Francis T. Kennedy1,2
M, b. 31 March 1937, d. 3 May 2015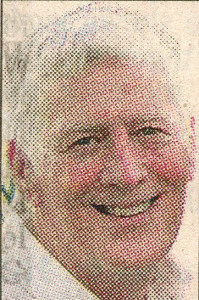 Francis T. Kennedy
Relationship
4th cousin 1 time removed of Taryn Lynn

Phelan
           Francis T.
Kennedy
was born on 31 March 1937 at
Waterbury, Connecticut
..
5,6
     Francis graduated from Fairfield University with a Bachelor of Science degree. He then earned a Master of Science degree in Physics from the University of Vermont and went on to graduate from Southern Connecticut State University with a Master's degree in Chemistry. Central Connecticut State University awarded him with his Sixth Year certificate of advanced graduate study in Educational Media and his Sixth Year certificate in School Administration.
2
     Francis T. Kennedy died on 3 May 2015 at age 78 at home in the company of his family at
Oakville, Connecticut
.
2
He was buried on 7 May 2015 at
Mount Olivet Cemetery, Watertown, Connecticut
.
7