Mildred Gertrude Percy1
F, b. 27 June 1908, d. 11 January 1993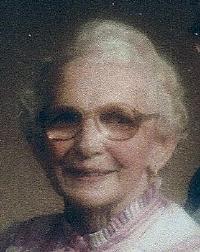 Mildred Percy Schroeder (picture sent to Taryn L. Phelan 10 July 2009 by Bonnie Schroeder Truxall, Millie's daughter)
           Mildred Gertrude
Percy
was born on 27 June 1908 at
Waterbury, Connecticut
..
1,2
An orphan at age 7, Mildred was raised by an aunt, Mary Ellen (Percy) Wilson, her father's sister.
Bernice Healey confirmed this and said that Mildred was young when her mother, Clara, died. She went to live with her father's relatives in Michigan. circa 1915 at
Michigan
.
3,4
     Mildred Gertrude Percy, age 21, appears in the household of Henry and Mary Wilson, her paternal aunt and uncle in the census of 13 April 1930 in
6103 Frontenac, Detroit, Michigan
, with her aunt and uncle, Henry and Mary Wilson, and their son, Forest Wilson..
5
Mildred was a typist in an office in April 1930 at
Detroit, Michigan
.
6
     Mildred Gertrude Percy married
Ernest Alvin

Schroeder
on 5 September 1931 at
Ecorse, Michigan
.
1
Mildred Gertrude Percy had natural red, curly hair and loved crafts. She belonged to the Daughters of America Lodge and the Rebekahs. She was a caring individual who, in her lifetime, took in to her house and cared for until their deaths: Mary Ellen Wilson, her father-in-law Ernest F. Schroeder and his sister, Caroline Schroeder Sachs.
3
     Mildred Gertrude Percy died on 11 January 1993 at
Monroe, Michigan
, at age 84.
1
She was buried on 13 January 1993 at
Mi Memorial Park, Flat Rock, Michigan
.
1