William J. Reilly1,2
M, b. 20 July 1883, d. 28 June 1912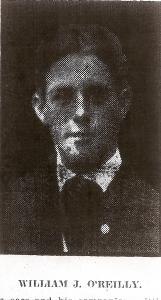 Willliam J. Reilly
(This photo was scanned from the Waterbury Evening
Democrat newspaper which published it for his obituary)
           William J.
Reilly
was born on 20 July 1883 at
Waterbury, Connecticut
..
3,2
He was a shop hand in November 1903 at
Waterbury, Connecticut
.
4
     William J. Reilly resided in November 1903 at
52 Fuller Street, Waterbury, Connecticut
.
5
     William J. Reilly married
Sarah A.

Phelan
, daughter of
John J.

Phelan
and
Mary E.

Hennessey
, on 2 November 1903 at
St. Francis Xavier Church, Waterbury, Connecticut
. They were joined in marriage by the Rev. J. J. Curtin.
1,6,7,8
William J. Reilly was a bartender at the time of his death.
2
     William J. died on 28 June 1912 at
Wolcott, Connecticut
, at age 28.
2,9
     William's funeral was held on 1 July 1912 from his late home, 45 Walnut street to the Immaculate Conception church, where a mass of requiem was celebrated by the Rev. James Broderick. During the services and at the offertory special music was rendered by Miss Gertrude Reed. The pallbearers were Stephen Keefe, Michael Egan and George Lynch representing the local Bartenders' union, of which the deceased was a prominent member, Thomas Flynn from Dipierro's where he was employed, William Ghent, and James Noonan. The floral offerings included: Pillow, lettered "Husband" from wife; standing heart, marked "Brother", from family; pillow, lettered "Cousin", from Ryder family; basket of roses, Mrs. Margaret McCormack; plaque of roses, Mary and Ellen Reilley; crescent and star, lettered "Friend", George Lynch; large standing wreath from B.I.L; standing cross, George Prence and friends; standing cross, Mrs. McDonald and girls in gymnasium class at St. Mary's Alumni Association; standing wreath, from Laurel club; standing cross, Bantam lake club; wreath of roses, from friends at Waterbury Buckle Co; basket sweet peas, Frank Dipierro; standing cross, lettered, "Rest", D. F. Regan; heart of roses, from friends of Shepard's livery stable; standing cross, Margaret Flynn, Annie Keefe and Mamie Leary; double plaque of carnations from William Mahoney and Edward Burke; plaque of carnations Mrs. Downes and family; basket of roses, department 25, Waterbury Clock Co; plaque of carnations from Annie Finley, Josephine Wallace, and Mr. and Mrs. C. L. Miller and family, William Conners, Laura and Kitty McGinn, Kittie and Ella Masonery, Mollie Mulville, Mary and Catherine McNally, and placque of roses, Mrs. Lorsensen.
10
He was buried on 1 July 1912 at
New St. Joseph's Cemetery, Waterbury, Connecticut
, in lot # 92.
2,11