Maureen Slavin1,2,3,4,5,6
F, b. 11 August 1934, d. 10 June 2014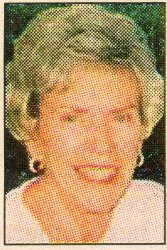 Maureen Slavin Warner
           Maureen
Slavin
was born on 11 August 1934 at
Waterbury, Connecticut
..
10,3,11,12
     Maureen Slavin appears as Maureen Slavin, age 5, in the census of 11 April 1940 at
56 Crescent Street, Waterbury, Connecticut
,in the household of
Dennis Joseph

Slavin
as his granddaughter, along with
Mary Agnes

Dwyer
,
James Dennis

Slavin

Sr.
,
Edward J.

Slavin
,
Frances Barbara

Slavin
and
Katherine Velleda

Charters
.
1
     Maureen graduated from Kingsbury Grammar School at
Waterbury, Connecticut
,
13
, from Crosby High School at Waterbury
14
, and from Marymount College at
Tarrytown, New York
.
15
     Maureen was a teacher in the Waterbury School System before her marriage.
16
     Maureen Slavin married
Dr. Leonard Clifford

Warner

Jr.
on 3 August 1957 at
Connecticut
.
2,3,17,4,18
     Maureen was a competitive tennis player at the Waterbury Country Club. She was an avid reader, travelled extensively, and cheered on the UConn Huskies basketball teams during the long, cold winter months. She loved being a grandmother to her grandchildren. She and her husband enjoyed many weeks with their family in Longboat Key, FL.
19
     Maureen Slavin died on 10 June 2014 at
The Village at East Farms, Waterbury, Connecticut
, at age 79 of Alzheimer's.
5
Maureen's funeral was on 14 June 2014 at
Basilica of the Immaculate Conception, Waterbury, Connecticut
.
20
She was buried on 14 June 2014 at
Waterbury, Connecticut
.
21