Hazel Cook1,2
F, b. 5 March 1911, d. 22 October 1999
           Hazel
Cook
was born on 5 March 1911 at
Connecticut
..
3,4
     Hazel Cook married
John Francis

Carrington
, son of
Lewis William

Carrington
and
Anna Josephine

Dwyer
.
2
     Hazel Cook appears as Hazel Carrington, age 29, in the census of 4 April 1940 at
82 High Street, Waterbury, Connecticut
,in the household of John Francis
Carrington
as his wife, along with.
5
     Hazel Cook died on 22 October 1999 at
Boynton Beach, Florida
, at age 88.
6
John Francis Carrington1
M, b. 4 August 1940, d. 27 September 2014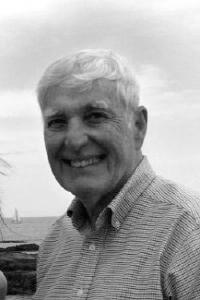 John Carrington
Relationship
3rd cousin 1 time removed of Taryn Lynn

Phelan
           John Francis
Carrington
was born on 4 August 1940 at
Waterbury, Connecticut
..
5,6
He also went by the name of Jack.
7
     He served in the Army National Guard while prusuing a career in human resources and labor relations.
8
     Jack worked at Scovill Manufacturing Company, Century Brass, Hubbell, and Cooper Industries. He lived and worked in Connecticut until 1991, when he then accepted a transfer to Brunswick, Maine to work as the human resource manager for Cooper Industries' Arrow Hart Division.
9
     Jack was an all-star basketball player throughout high school and participated in local leagues as a young adult. He enjoyed other sports throughout his lfe, especially golf and baseball. He was a proud fan of the Boston Red Sox.
10
     Jack died on 27 September 2014 at
Maine Medical Center, Portland, Maine
, at age 74.
11
He was buried on 1 November 2014 at
East Morris Cemetery, Morris, Connecticut
.
12
Sophie Chmielewski1
F
Citations
[S1386] The Waterbury Republican-American, 29 January 2015, Page 6B, shows that he was married to the late Sophie (Franciska Chmielewski) Sherwill.